Enterprise Network Digital Media Management
With the SAFARI Montage® Learning Object Repository, districts and regional media centers can control the storage, delivery, access and Digital Rights Management (DRM) of all of their digital media without compromising network integrity. It is a flexible and scalable system that is designed to optimize high-bandwidth networks with centralized servers while accommodating low-bandwidth WANs by placing managed servers within the schools. In either environment, districts will enjoy the control and convenience of managing their content centrally.

SAFARI Montage allows district System Administrators to manage all system configurations, permissions and users by school from a single interface, and features intelligent load-balancing functionality for efficient distribution regardless of bandwidth—especially ideal for a district transitioning its bandwidth scenario. A powerful SAFARI Montage® WAN server is the backbone of our Wide Area Network implementation, providing an elegant solution for delivering digital media throughout the district.

The combination of the efficient use of bandwidth and Digital Rights Management tools designed for K–12 education provides System Admins with the control needed to manage video district-wide. Because the SAFARI Montage system had been designed as an enterprise-class solution, it provides tools that a System Admin needs to manage bandwidth consumption and monitor all servers.
---
Simplified Storage Management
NEW 6.2 Administrators can easily identify Storage Space Available on SAFARI Montage content drives and monitor the storage space used by Existing Learning Object Repository Media.
Admin Features
Manage and Monitor Servers in Real Time
Allow Remote Access
Permits SAFARI Montage Technical Support to remotely access local servers for troubleshooting and repair when necessary.
APC-UPS Monitor
Allows APC-UPS integration.
Bandwidth (Live) and Bandwidth Restrictor
Monitor live, accurate bandwidth consumption, and restrict bandwidth usage as needed.
Data Recovery
Schedule back up of system and settings, along with user-created data and media, to any network destination.
DB Cache
Increase system performance by caching results.
District Approved Workflow
Playlists and Content Pending Approval enable appointed Approvers to preview both before distributing; protecting the district from copyright infringement and enabling the Admins with to manage digital media licenses.
Manage Multiple LDAP Servers
Allows administrators to manage multiple LDAP groups and multiple LDAP servers.
Online Content Updates
SAFARI Montage® servers check nightly for any content updates that a server may require, and download updates according to the schedule configured by the System Admin.
School Management
Centrally manage all school preferences, settings, licenses and access to content.
Server Boot Times, Server Load (Live) and Server Load Averages
View a snapshot of server uptime, plus observe server load in real time and average server utilization by time of day.
---
Efficient Video Distribution
Video Resolution Management

---
Uploaders no longer have to create multiple formats/files!
Upload full-size video, it automatically converts to smaller sizes in H.264 Format.
Uploaders no longer have to create multiple formats/files!
Upload full-size video, it automatically converts to smaller sizes in H.264 Format.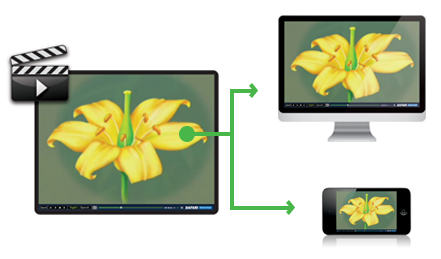 ---
SAFARI Montage WAN Manager Purchase Information
For pricing and more information, call 800-843-4549 or email cs@safarimontage.com.