Get it? is a formative assessment tool that enables teachers to check for student understanding of a topic or concept during a lesson. Now re-imagined inside the LOR, this interactive tool supports student engagement during live in-class and real-time remote instruction simultaneously.
Students type responses into a pop-up via laptop or phone giving near instantaneous feedback. Teachers can assign a pre-loaded review playlist for immediate remediation for students who answered, incorrectly providing a customized experience for each learner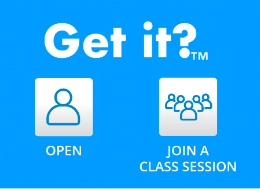 NEW 8.5 Now use Get It? Formative Assessments for self-assessed, self-paced, learning paths with instant remediation!
My Get it? Review has been updated to support both teacher-led and student self-launched sessions
Get it? assessments may now be shared to Google Classroom, Microsoft Teams, and other supported LMS integrations
Get it? assessment results now include individual student data for each teacher-led session