Interactive Videoconferencing On-Demand at Your Desktop
With SAFARI Montage® Live-5! interactive videoconferencing, school districts can enable their educators to connect and collaborate with colleagues and students like never before – easily and affordably.
This feature-rich, IP-based video-conferencing system utilizes a SAFARI Montage® Live-5! server, SAFARI Montage® v.5.8 or later, the district's private WAN and the public Internet to facilitate interactive group sessions led by one or many broadcasters. Unlike other videoconferencing systems, SAFARI Montage® Live-5! requires minimal training and technical support because of its intuitive interface and simple system setup. All a user needs is a camera and a microphone (headset preferred) connected to his or her desktop or laptop computer – that's it!

SAFARI Montage® Live-5! is the ideal solution for providing reliable school-to-school or school-to-home education for many applications, including AP classes, distance education for homebound students, professional development for teachers at school or at home, and virtual field trips to remote locations.

Mobile Device Compatibility
SML5 app now available on the App Store for iOS devices and the Google Play Store for Android devices
MOBILE DEVICE SYSTEM REQUIREMENTS
iOS 5 or later, iPhone® 4 (up to iOS 6), iPhone® 4s, iPhone® 5, iPad, iPad® mini, iPad® 3, iPad® 4, iPad® 5, devices running Android™ operating system 2.3 and later, Chromebooks™ and Windows® 8 Intel-based tablets, including Microsoft Surface™ 2, Dell Venue™ phone and HP Omni 10.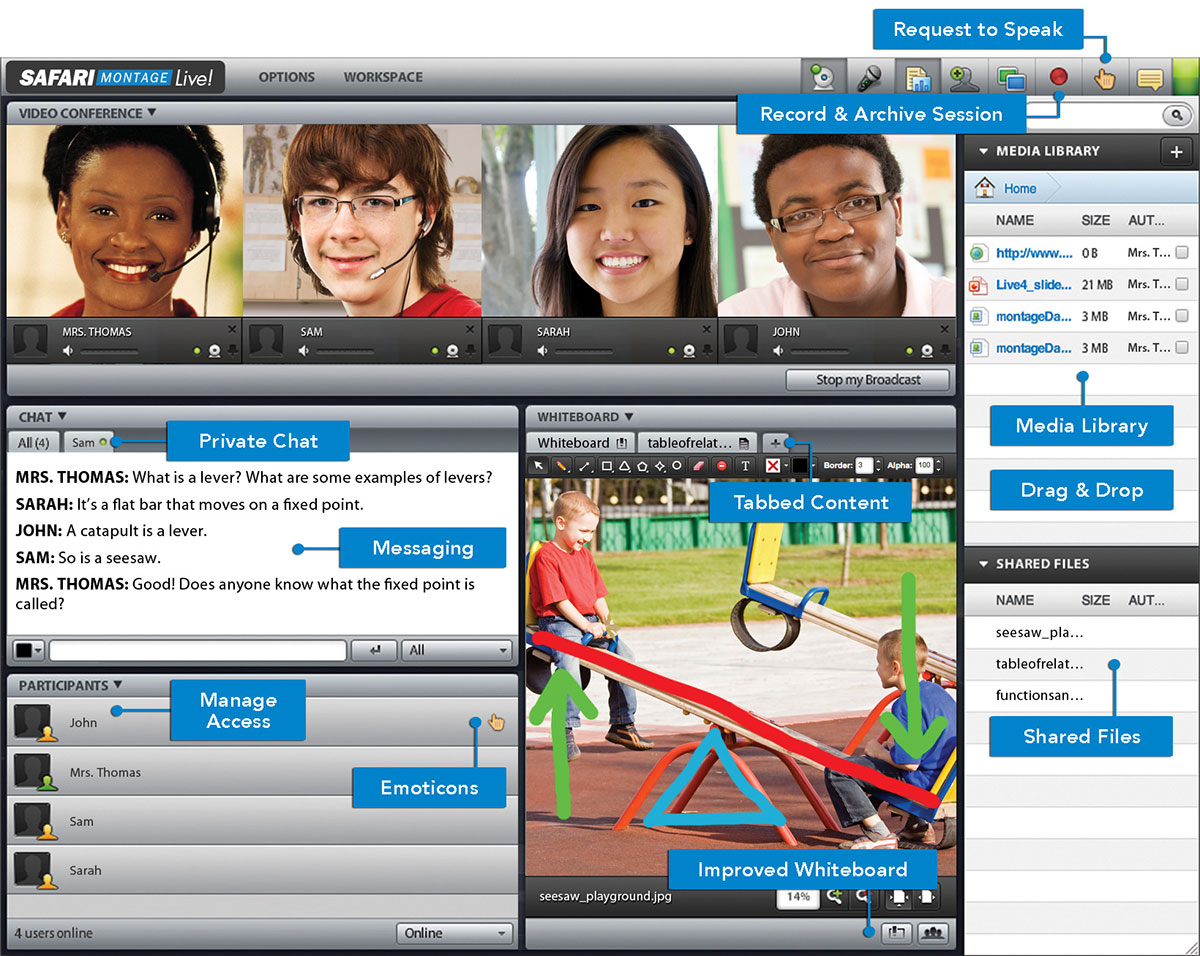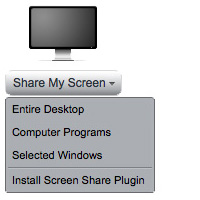 Screen Sharing
NEW SML5 Teachers can now share an individual window, application or entire desktop. This feature has been optimized to improve efficiency and provide reduced bandwidth requirements.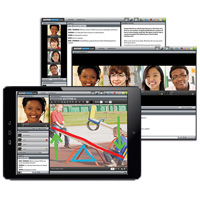 On-screen Layout
NEW SML5 Choose one of three preset layouts based on your needs — Chat, Presentation or Conference — or adjust the layout just the way you like and save it for future sessions.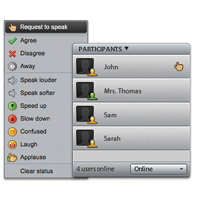 Emoticons
NEW SML5 Allows users to pictorially express an action or feeling, such as applauding, requesting to speak, etc.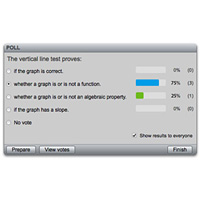 Live Polling
Get immediate feedback on a topic by conducting an online live poll with participants.
---
SML5 — fully integrated with the SAFARI Montage®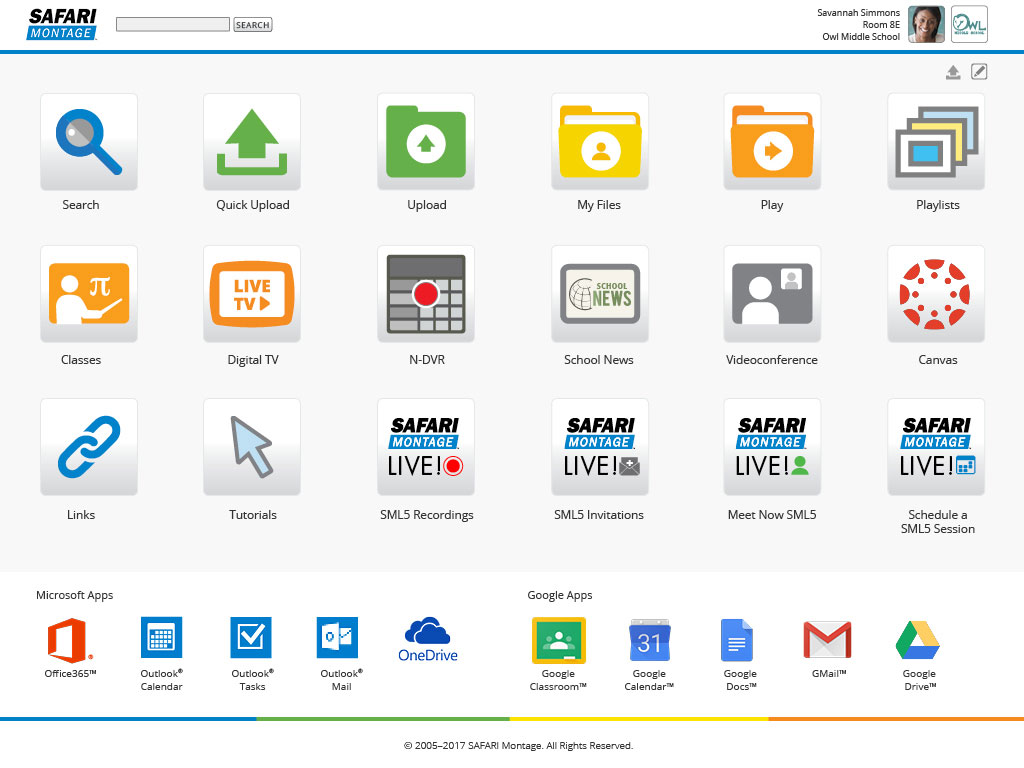 Complete LDAP User Integration for SML5
Enables any SAFARI Montage® LDAP user to schedule, launch and participate in SML5 sessions.
Access Invitations
Join scheduled SML5 videoconferences directly from the dashboard. With V.5.3 Invitation Enhancements, SAFARI Montage® users can now be invited to a session by user type, school or school group, in addition to individual invitations.
Access Recordings
Recorded SML5 videoconferences can be accessed and played right from the dashboard.
Schedule Sessions
Videoconferences can be easily scheduled right from the SAFARI Montage® dashboard. The new Personal Address Book feature allows invitations and management of users outside of a district network.
NEW

SAFARI Montage® Live-5! Features:
Session Lobby: Participants will be placed in a virtual lobby until the moderator allows them to enter.
Breakout Rooms: Participants will have the ability to break into groups during a session.
Customized Instructions: Session invites now allow customized instructions for participants.
Session Attendance Reporting: Admins will have the ability to collect session attendance data.
Additional Features
Administration
Updated account center with improved navigation and configurable dashboard of scheduled sessions, recordings
Automatic creation of user accounts from invitations
Ability for administrators to impersonate a user for support purposes
Ability to remotely control any participant's desktop (with permission)
Capacity
Supports 30 concurrent video conferences, depending on the district's available bandwidth.
Natively Supported Files
IMAGE: PNG, GIF, JPG, SWF
VIDEO: FLV, F4V, MP4, M4A, MOV, MP4V, 3GP
WEB SOURCES: Flickr®, any URL with a supported file type (listed above)
Other
Moderated Question & Answer – allows the moderator to review and selectively answer questions
Video Conversion
Pause Recordings
Onscreen connection quality feedback
Customizeable meeting URLs
Session encryption via RTMPE
Supported Files for Conversion
Is your file not supported natively? If it's one of the file types below, you can still upload it to your session. From your SML5 Media Library, one click converts your file so that it can be shared and viewed by all participants.
VIDEO: MPG, MPEG, MP4, MPG4, MOV, MOOV, WMV
DOCUMENTS: PPT, PPTX, DOC, DOCX, XLS, XLSX, TXT, RTF, PDF
Video & Audio Enhancements
High-quality video (480x360) and audio (44 kbps) that are double the quality of other desktop videoconferencing systems
Full-screen video
Echo cancellation
Set and fine-tune video quality for broadcasters individually, up to full HD quality
Start and stop other broadcasters
Dramatic ability to play full-motion video from Media Library or YouTube®
SAFARI Montage Live-5! system requirements
SAFARI Montage® v5.8 server
SAFARI Montage® Live-5! server
---
A Cost-Cutting Solution
With SAFARI Montage® Live!, districts can save money with Virtual Field Trips, on Distance Learning and on Professional Development.
Virtual field trips designed by leading national organizations like NASA and Colonial Williamsburg replace costly real field trips, while preserving the essence of the experience for students.
Interactive videoconferencing at the desktop connects remote students with teachers efficiently and economically.
Professional Development costs are reduced or eliminated, including stipends, substitutes, teacher overtime, mileage reimbursements, meals and beverages, and location costs, as well as costs associated with duplicating or replacing hard copy Professional Development programs on VHS and DVD.
---
This product allows users to include participants in a SML5 conference who are using traditional H.323-based videoconferencing systems, such as those offered by Tandberg® and Polycom®.
(SAFARI Montage® Live! H.323 Gateway requires a SAFARI Montage® Live! server that is covered by a current SAFARI Montage® Live! Software Upgrade Plan. Requires precertification of H.323 bridge.)
Include H.323 participants, and efficiently broadcast them to SML participants, such as teachers, professors and homebound students.
The gateway supports one H.323 connection at a time, which may be a direct connection from a single H.323 unit or from an H.323 conferencing bridge capable of supporting multiple participants. (Requires precertification of H.323 bridge)
H.323 participant(s) connected to the gateway can speak to and be seen by all others in the session
System administrators can maintain a directory of H.323 callers, as well as manage and operate the gateway via a web interface.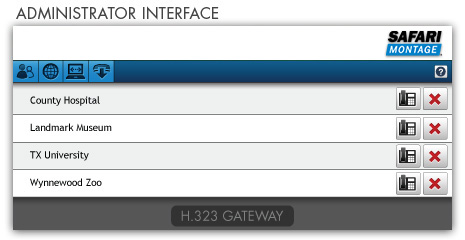 ADD CONTACT

ADD SESSION

REMOTE DESKTOP

HANG UP

CALL/CONNECT

DELETE CONTACT
---
SAFARI Montage® Live-5! and SAFARI Montage® Live-5! H.323 Gateway Purchase Information
For pricing and more information, call 800-843-4549 or email cs@safarimontage.com.