SAFARI Montage® Mobile Broadcast Cart
Broadcast a live or pre-recorded stream with the SAFARI Montage Mobile Broadcast Cart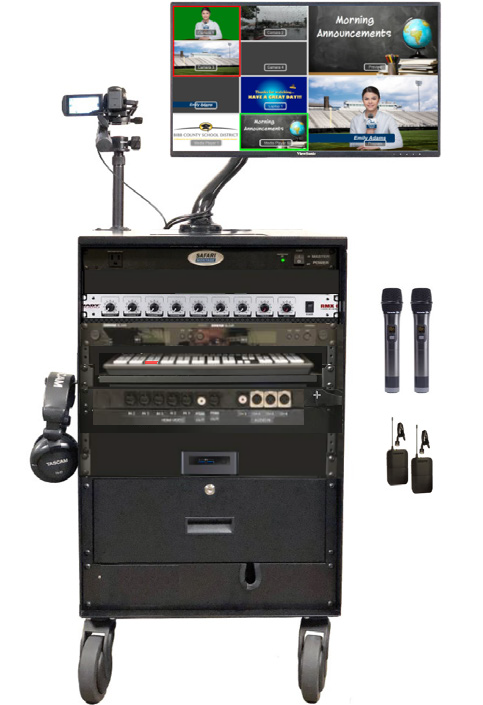 The SAFARI Montage Mobile Broadcast Cart is a mobile A/V cabinet custom designed and built by AV Rover, and equipped with all the components necessary for originating and distributing a live video program.

The Mobile Broadcast Cart is perfect for K-12 educational use, such as school news, announcements, theatrical performances, professional development, and even distance learning. It includes a 4U locking storage drawer with onboard power outlets and a 24" monitor mounted on an articulating arm.

The SAFARI Montage Broadcast Encoder provides unicast or multicast streams, and supports ADA mandated closed-captioning.

Supports SAFARI Montage IPTV & Live Media Streaming and SAFARI Montage Digital Signage Solutions.
Key Features

Cart Components
AVRover SVS200 Cart
Retractable Power Cord
Master Power Switch
Heavy Duty Wheels
4U Locking Drawer
External Power Outlets (6 AC, 4 USB) Network Cable
Production / Streaming Equipment

Blackmagic ATEM Television Studio HD Switcher
24" Monitor with Articulating Arm for multiview: sources, preview, and program
Mounted Monopod with Tripod Style Movement and Quick Release Head
HD Camcorder mounted on monopod; wired to switcher input 1
Rack Mounted 6-Channel Audio Mixer
Custom External Input Panel:

3 HDMI inputs to Blackmagic switcher (HDMI 1 dedicated to monopod camera)
4 audio inputs to mixer (2 XLR, 2 .35mm)

Wireless 2-Channel Microphone Receiver with Handheld or Lavalier Mics (choice of 2 of either or one of each)
Studio Headphones with Cart Hook
SAFARI Montage Broadcast Encoder (streams unicast or multicast)

Accessories
AA Battery Charger with 8-Pack Rechargeable AA Batteries (for wireless mics)
Assorted Cables
Cart Tools
Optional Items
2nd HD Camcorder and Tripod
Green Screen Kit with Stand and 2 Soft Lights
Network switch (mounted internally) with 2 Ethernet ports on input panel to allow networking of Blackmagic ATEM switcher1
Blackmagic HyperDeck Mini to record program to SD card and provide live playback of recorded programs to the network stream
Note: Items pictured may vary depending on cart design and options selected.


View PDF
1
The Blackmagic ATEM Television Studio HD switcher is a network device that may be configured and accessed directly from a local laptop via an Ethernet cable or accessed over the District WAN. Accessing the switcher via the network requires an optional network switch which can be added to the cart configuration and will also provide two network ports on the custom input panel.
---