NEW 6.4
SAFARI Montage® Endpoint with Classroom Portal License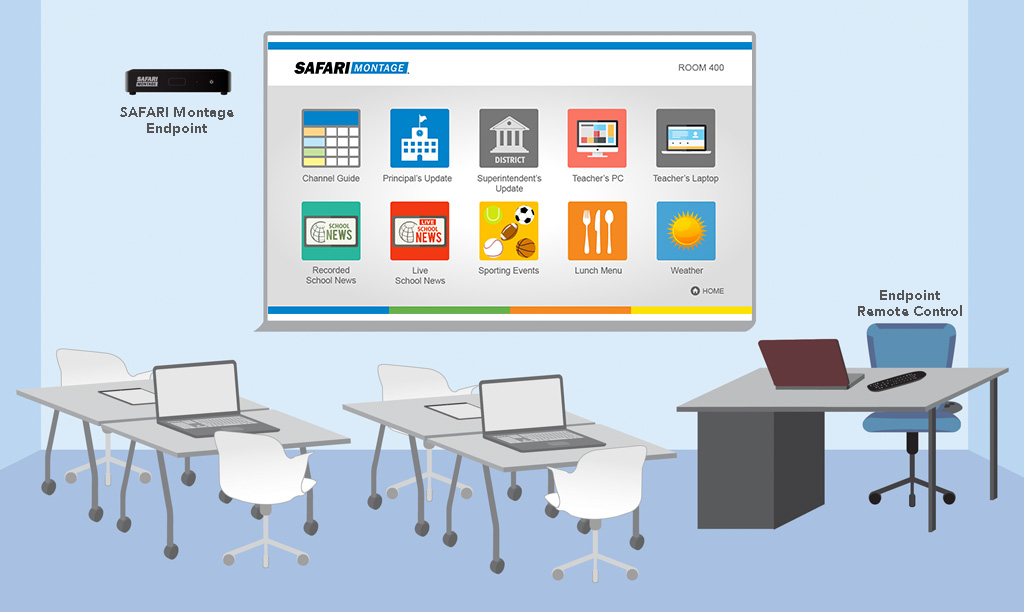 Easily manage the digital classroom environment with a SAFARI Montage Endpoint and Classroom Portal License
The Endpoint allows teachers to show rich live video resources via the classroom display while continuing to use their workstation for other applications - without the need to connect the teacher's workstation to a projector or audio system. The Classroom Portal License provides access to a well-organized Classroom Portal which offers teachers centralized control of classroom devices along with seamless navigation to visual classroom resources, such as school news, live TV and events, lunch menus and student class rostering.
Classroom Portal License Requirements:
For pricing and more information, call 800-843-4549 or email cs@safarimontage.com.
Classroom Portal License Offers:
Classroom Portal Access to Recorded News
Access to Digital Classroom Signage (Lunch Menus, Sporting Events, etc.)
Classroom Portal Access to Live School News and Updates*
Classroom Portal Access to Cable TV* and Channel Guide**
Student Class Rostering via Classroom Portal***
SAFARI Montage Endpoint Offers:
Push to display functionality
PC and Laptop Input Switching
Basic Digital Signage Templates
Customizable Options
Ability to Schedule Playlists